Scar Revision
Posted:
Wed Aug 08, 2007 1:30 am
For those who do not know I had my thyroid removed. I had an awesome surgeon who saved my vocal cords and despite the enlargement and everything instead of a 4 inch scar I was left with a 2 inch but raised and 8 months later not flattening. I talked to the plastic surgeon. He recommended steroid shots & in the end cutting it out. I had so much tightness after the surgery (I'm a singer and it took hours to be able to sing long notes) that I say no thank you. Someone, I believe here recommended the TCA Face Peel from Ebay. Not for the scar but I kept thinking, what could it hurt, it wasn't new. So after 4 treatments at about 50-75% solution here are the results.
Here's the before.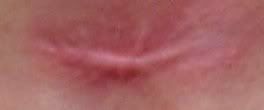 Here's the after. Only one week.